Each bunk bed, loft, desk and everything in between that we've created has a rich design story wrapped up in years of problem solving. Our designs are constantly evolving with our years of experience working with families to design their rooms. Each product is meant to address the most common, to at times, obscure problems families have brought to our attention. This allows for them to work in almost any home, but sometimes that is not the case.
The Problem: Small Kids Bedroom
This was true for Rohan and Milan's cramped, windowless bedroom. Rohan and Milan's family visited our showroom one weekend in need of a custom solution they hadn't been able to find elsewhere. Armed with floorplans and photos of the space, Roberto and the family discussed every solution they had tried beforehand and others they hadn't. Together they created a comprehensive list of requirements for the room.
The bedroom needed to sleep both kids, have an additional sleeping space for a visiting grandparent, a desk for the kids to draw on, storage for their toys, and space to walk in the room. While this list seemed easy to achieve, it became quite the challenge in a bedroom that at the longest was about 10 feet and had a depth of a little over 7.5 ft. Adding to this unique problem was a large protruding column towards the left of the room, eating up a chunk of floor space.
When visiting a room for a home consultation our team measure, photographs, and has further discussions with the family. We also ask that the rooms aren't tidied up, as we like to see the natural living space looks like and what other problems we need to address. Here we found that the kids desperately needed additional storage for their toys, books, and clothing. Their old bunk bed left them with nearly no floor space in the bedroom, and stuck out significantly from a niche in the wall.
Creating a Plan
Since there was no good place to put a standard size bunk bed without taking up nearly all the space in the room, we decided to create a custom size bunk bed in the niche towards the right of the room. This bed would have to be built into the home so that it could be the full length of that space. With the extension, the bunk bed ran a total length of 74.5 inches, only 2.5 inches shorter than a standard twin and about 10 inches narrower than. Ultimately the kids don't lose a significant amount of sleeping space but gain all of their floor space with the bed tucked away in a corner.
Next we needed a sleeping solution for grandparent. The obvious choice for us was a tuck bed. This bed wouldn't be used on a regular basis and could fold away neatly. Beside the tuck bed we decided to create a full wall unit featuring a desk for the kids and storage cabinets surrounding. This wall unit almost takes up the full length of the wall.
After drawing up sketches, plans, and 3d renderings it was time to show it to our family to get it approved.
Installing the Built in Beds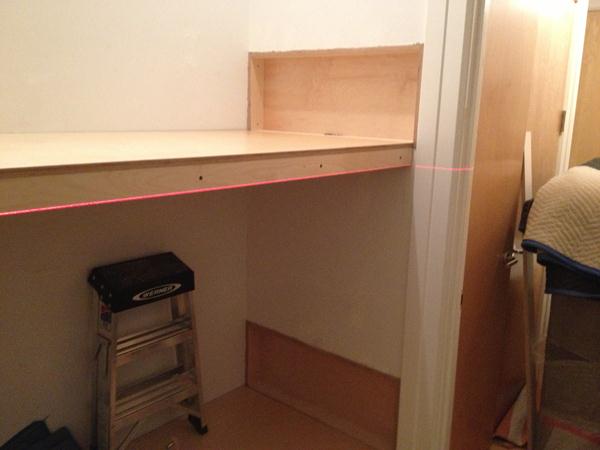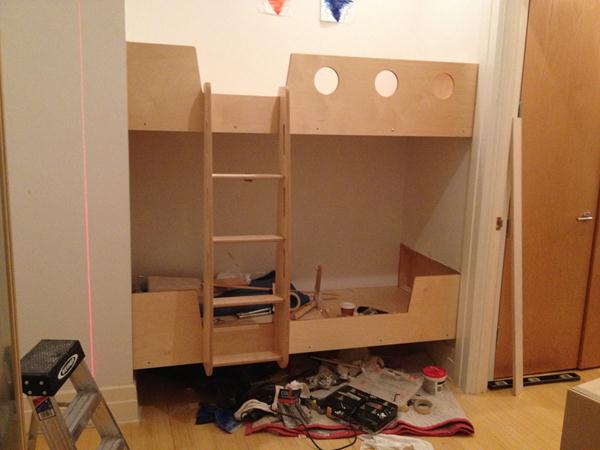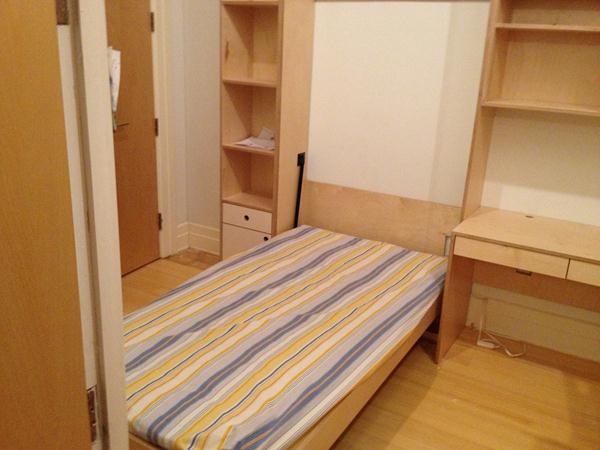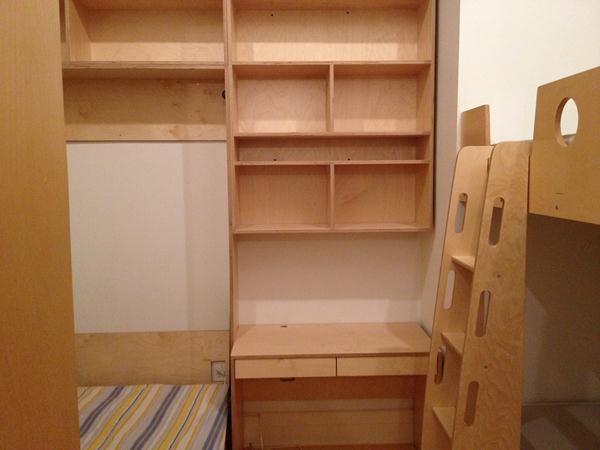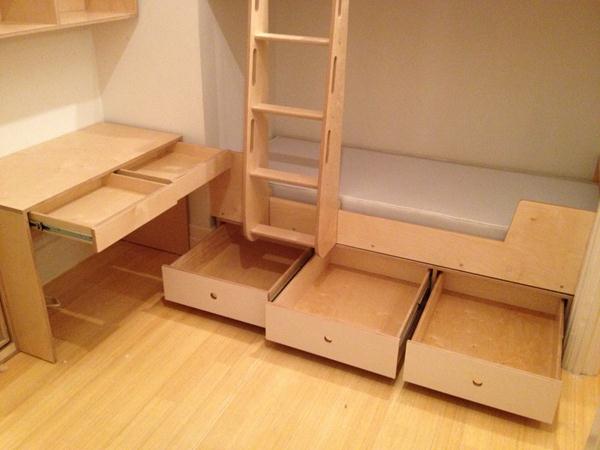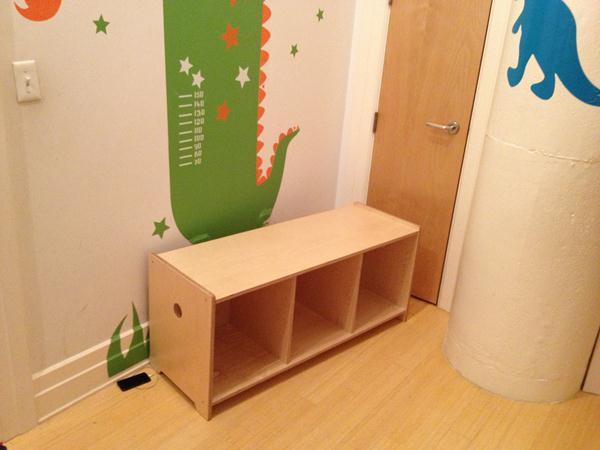 Our expert team traveled to Rohan and Milan's home to install this one of a kind room. During the process they had to mount cabinets, a tuck bed, and the built in beds. They spent the day making sure that everything was safe, secure, and level; ready for the kids.
Rohan and Milan's impossibly small space manages to sleep three and keep floor space wide open. This is possible because our plan tucked away all the furniture along the walls. We used our lightest finish option to keep the room airy and not weighed down by darker options. Our birch with white compliments the space nicely. We even added a magnetic board to the face of the tuck bed so the kids can play and display their art! Everything now has its place and the kids don't have to feel cramped in their bedroom.